From the wonder of the light to the sway of the city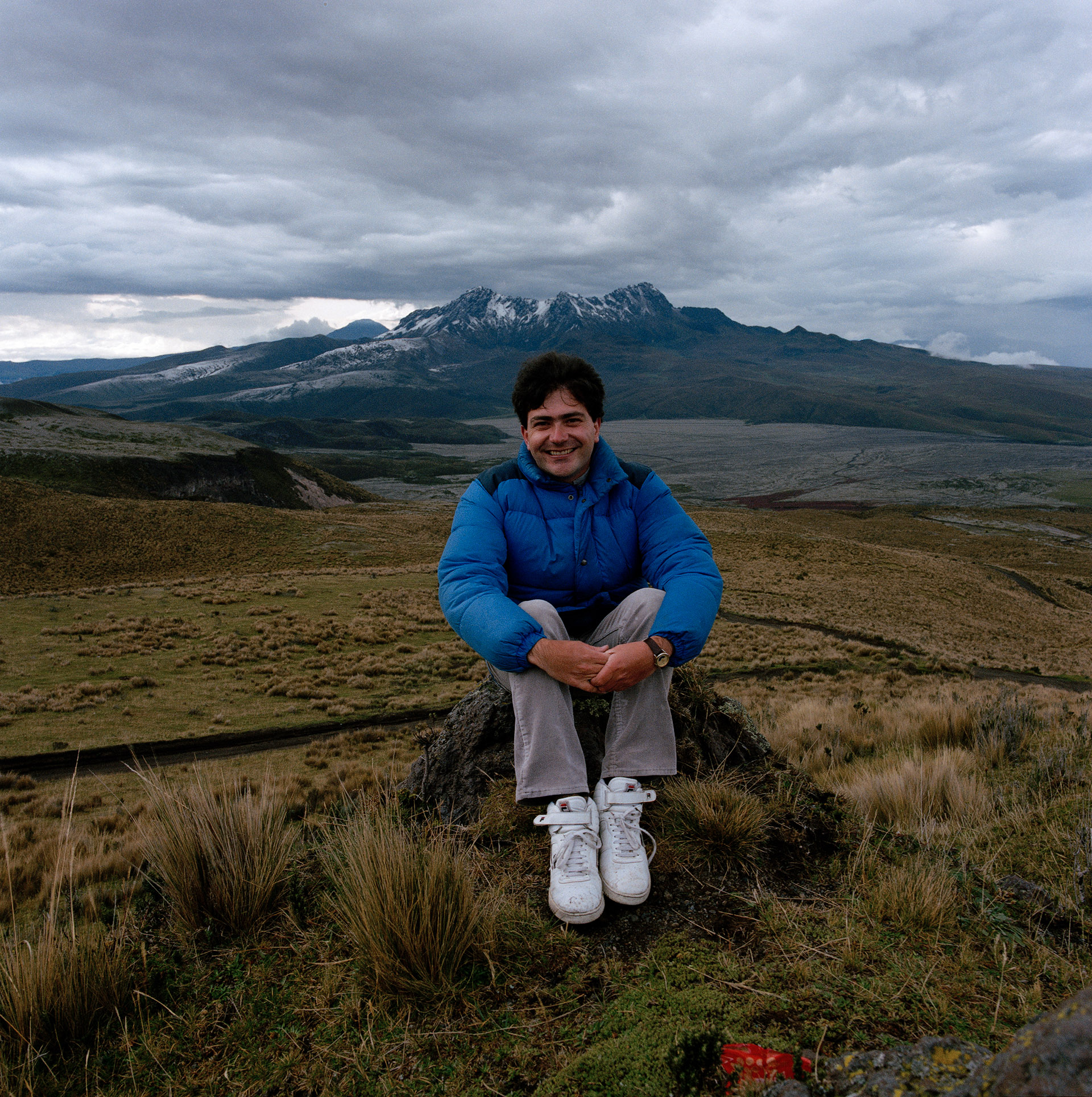 –Any images that talk about childhood?
-A boy playing alone. The light coming through the window and the dust that became, in my imagination, a universe: tiny stars floating in the galaxy. From then on light would be my companion. I was one of those children who play alone. I was lost in my games and fantasies. Alone, because I am the youngest of four siblings (Felipe, Cristóbal, María Eulalia, Pablo) but twelve years separate me from my older sister. Besides being lonely, I was small and pale, but very bossy. I studied at the Spellman school first and, because of those adjectives I mentioned, I suffered a lot: I was the smallest one but I wanted to decide what and how the other children should play; then, not few times I came home with a black eye. I was there until the fourth grade.
-A child who had no friends?
-I was, let's say, a nerd, but yes, I did have friends. My best friend as a kid was Andrés Páez. Then I was transferred to the German school. I was better off there: even though it was a rigid school, I put a lot of emphasis on creativity. Let's say it was paradise because, besides, there were girls at the German school (laughs). Everything was happy until a German teacher arrived, Mr. Brenner, with whom my problems began. I was not a good student… but I survived. There I found my friends, who I still consider my friends today.
-When did the first camera arrive?
-On Christmas Day 1972. My father gave it to me when I was five years old. It was a Kodak Instamatic. I was so happy that I took pictures of everything: the family, the neighbors, the chickens we had in the garden of the house. By the way, in this very house. Then my father gave me a Pentax KX, which was a marvel. My brother Cristobal, also a photographer, taught me a lot. We had a darkroom at home, to develop (as if we were talking about prehistory: at that time, photos were developed). The first best photos were taken when I went fishing with my father. We used to go to the mountains together. He would fish and I would take pictures, look at the landscape, fall in love with the world, get excited. The camera became a license for a shy child: it allowed me to get close to the others, to take pictures of them. And it also allowed me to be amazed by the things in the world.
-What is photography?
-It is the present, because the photographer must be in the moment, now, not before or after… in the present. Photography has become for me a form of meditation, thanks to it I am disconnected from everything, from worries, from pains and anxieties, and I am simply where I am. I am very grateful to photography because it gave me the world.
-And what is photography today, since now more photos are taken than ever before and no photo albums are made… in fact, no tangible souvenirs are kept.
-Today photography is a language. It plays a role similar to words. It serves us to share experiences and talk about our lives. Now everything is photographed: what we eat, what we do, the shopping list, our pretended or real happiness. Something similar to what happened with the invention of the printing press has happened with photography. Writing and reading, before the printing press, was the business of a few. Then it was democratized and the written word became a tool for everyone. With photography, the same thing has happened: now we are all able to use it to communicate. All we need is a telephone to take a picture of our friends. On that path, we professional photographers have been left without a floor…
-Photography is ephemeral?
-Yes. -The words we use to communicate, everyday language, are ephemeral by nature. There are words that have a literary intention, that become poetry or narrative, and only those have the purpose of remaining. The same thing happens with photography today. It has become a tool for communication. It is no longer kept, it is no longer useful for remembering. There are some images that have an artistic or documentary intention, or that effectively become a testimony of our life. Only these have the possibility of lasting.
-Photographer or photojournalist?
-I studied photojournalism. That is, I learned to tell stories through the images I captured with my camera. I did not have an artistic intention in photography: my intention was journalistic and documentary.
-What was it like to study law?
-I went on an exchange to California after finishing school. When I came back, I was already enrolled in law school. My father had this dream: that I would work with him in his law firm, and he had enrolled me. I didn't know that, and of course I was angry with him. I remember him saying, "If you don't like it, you can quit." Two years went by and I told him that I did not like him. And he said, "Finish, you've got so little left!" That's how I ended up and graduated from law school. I worked with my father in his law firm. It had a wonderful view of the city of Quito. All I wanted to do was take pictures and instead I spent my time incorporating companies and writing legal documents.
-And the father… -Disappointed?
-At first. But not only did he later accept the idea but he was proud of it. I remember when my boss from National Geographic came in, Kent Kobersteen. He went home, talked to my father, told him he must be very proud. And he was, without a doubt. In the end, I don't regret it, it served me right. Today, in my work in the Municipality of Quito, it is very useful for me to know about the law.
Pablo Corral is the author of seven photography books: Tierra desnuda, Paisajes del silencio, Ecuador, De la magia al espanto, Veinte y cinco, Jardines silvestres and Andes. Inspired by the photography of this last book -published by the National Geographic Society- Mario Vargas Llosa wrote twenty short stories.
What was that story like?
-We saw each other in Washington, in the National Geographic. He was teaching at Georgetown. We were introduced, he saw my pictures and that's how the idea was born. It was a very pleasant collaboration. It wasn't an overnight job. The project took almost two years. I can say that he is a simple, sensitive and direct man, one of those who doesn't mince words, who says what he thinks. He is also a very respectful and affectionate person. Vargas Llosa wrote his micro-stories inspired by my photos. There's one that I like very much: "The Dream of Icarus": a photo taken on the border between Bolivia and Chile, where you see two soldiers jumping, as if boredom had turned them into birds.
During the interview, we talked about adversity and how it becomes the driving force behind other things. For example, he tells of his brother Felipe and how he became an important presence in his life…
-My brother Felipe died when I was five. He was twenty-one. He went to sleep and did not wake up (he had a brain aneurysm). I, who lived feeling all kinds of spirits and presences, felt protected by him, as if I had a guardian in the other world, an ally by my side, an invisible companion who accompanied me while my mother, devastated, was left in sadness.
-When it comes to telling stories, what kind of stories do you like?
-I like stories full of mystery and nostalgia. I think I have a fascination with saudade, with impossible loves, with the way people connect and disconnect.
-What about the writing?
-I love writing, but I'm a big coward because to write you have to bare your soul. I think in another life I would be a writer instead of a photographer. Someday I'll write a novel, the one my mother would have wanted to write; that's what I'd like to do. I've been thinking about it for several decades, but I always have something more urgent. I am a coward. It's easier to hide behind the camera or cultural management.
-Reviewing your portfolio there are two tributes, one to tango and the other to Gabo. What comes to mind now when you think of those two pretexts?
-For the tango I immersed myself in the nostalgia of Buenos Aires. I think I was looking for that persistent memory of my mother playing tangos on the piano at home. I found a sad world where the characters hug and dance so as not to be shipwrecked. I didn't know Gabo very well, I only spent a few days with him and his closest family, traveling through the north of Mexico. My literary hero, the titan who populated my imagination when I was a young man, was an irreverent and funny man, a great joker. I was lucky enough to laugh a lot with him, to listen to his stories, to sing corridos and rancheras with him. He invited me to spend a few days at his house in Mexico City and I didn't accept, thinking that there would be another opportunity.
–What are you reading, what inspires you?
-In terms of reading I'm quite eclectic, but of course there are authors who have marked me. I think the German school also marked my literary tastes. Among my leading poets are Rabindranath Tagore, Robert Frost, Omar Khayyam; among the Ecuadorians, Jorge Carrera Andrade; among the novelists, Alejo Carpentier, Faulkner, Thomas Mann, Milan Kundera, Albert Camus, Selma Lagerlöf. I also read a lot of essays; among the thinkers I would cite Martin Buber, Joseph Campbell, Carl Jung, Wendell Berry, Miguel de Unamuno…
-Who have influenced your photography? -Who do you admire?
-These names come to mind: Wynn Bullock, Joel Meyerowitz, Ernst Haas, William Albert Allard, Graciela Iturbide…
-How do you get to the bureaucracy?
-That comes from something very personal. Somehow a door was opened there in a complicated moment. Four years ago a traffic accident blinded the life of Carolina Hidalgo Vivar, the dearest and closest person I had in the world and who was my girlfriend for seven years. We were not a couple at the time of the accident; she had a boyfriend and was rebuilding her life. It was the most painful day of my life. I was, as always (he emphasizes, with some anger at himself), traveling. I had been putting off matters of my personal life, because of work, because of the incessant traveling. He wrote me a message a few hours before the accident, which I could never answer. She was a landscape architect and town planner and had a lot of love for the city… I accepted the proposal made to me by Mayor Rodas, whom I didn't know, as a way to be close to Carolina's dreams and to face the depression I was going through. I've been a cultural manager, a book editor, and I've never been unaware of the cultural issue, so I accepted the proposal that allowed me to do something for the city. I needed to change my lifestyle and I accepted the challenge.
-And… -How are you doing?
-I think I've learned a lot. Like I said before, the draft… but it's an experience we should all go through. It's difficult and there are all sorts of difficulties. Perhaps the biggest is the administrative burden, the issue of public procurement, which is a headache. It's a system made for road construction… but not for cultural management. And then, on the same subject: there are many susceptibilities in the Quito cultural world. I didn't know what I was getting into, I thought it would be a more creative and less bureaucratic job. A new passion was born in me, which has to do with urban regeneration, with thinking about the city, with the celebration of our diversity and the defense of cultural rights. I have fallen in love with work.
-Doesn't bureaucracy quarrel with ethics?
-Let's say I've had constant ethical dilemmas. For example, in one of the exhibitions organized at the Metropolitan Cultural Center: Intimacy is Political, there was a piece of work that I didn't know about and that, personally, I found offensive to Christians. On principle I do not agree with censorship and I believe that even people with extreme messages have the right to express themselves. It was the mural "The Miraculous Blasphemous Altar". Tens of thousands of people wanted the mural to be erased, and we were also accused of affecting the heritage. As a result of the accusations, we were closed for a few days to evaluate the issue of affecting heritage. We decided to give integral visits to the whole show guided by the same director. This is what is done in museums around the world with controversial works, limiting access and explaining. We managed to avoid censorship. All the time we are faced with ethical dilemmas, like having to pay producers to be able to do cultural management, simply because there is no other way. I have learned that what is fair for some is unfair for others. I have learned that you can rarely make everyone happy. In reality, I have existential conflicts every day… but, at the same time, public service has been an enriching experience.
-You don't take pictures anymore? -Do you have any other personal projects?
-I take photos at the events organized by the Secretary of Culture of the Municipality of Quito, to save the cost of the photographer (laughs); for now I'm excited about the project of the Center of Social Memory in Quito, while other personal projects are… on hold.
-At the beginning of the interview you said that the light has been your companion, how do you combine the light now with your tasks around the city?
-There is the Festival of Light, which has been one of my projects, a pretext to be proud of the city's heritage and to share the experience of light with the citizens, to share the amazement with others. I have always been fascinated by light but I have also been amazed by the words, the textures, the way people grieve for their dead or rise up from a tragedy. I am a passionate lover of culture, and I am convinced that it gives us the coordinates to navigate a complex world with infinite gradations of grey.
Amazement is a fundamental thing in photography. In journalism. And in photojournalism. When you have lost the capacity for wonder, you have lost everything.
Originally published in Diners Magazine, Edition 428 – January 2018.
Copyright © Mundo Diners Magazine. Dineditions. All rights reservedImplemented by Wembaù